Statement:

Once they have agreed to the reservation protocol announced by the cultural event organizer for

[piece that bears the name and address of the place where it is put on]

the spectators who show up to see the performance are accompanied into a nightclub, then seated in an audience configuration alongside an active dance floor. They watch the nightclubbers dance for 60 minutes. This hour is labeled as a choreographic piece signed by the choreographers' names.


Neither the spectators nor the nightclubbers are forewarned.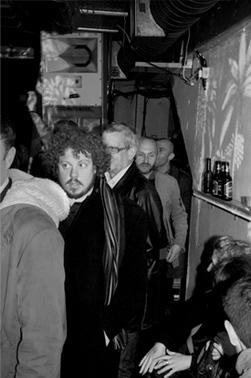 April 3rd 2009, Notting Hill Arts Club, London, United-Kingdom
Photos: Ivan Markovic
Courtesy: les gens d'Uterpan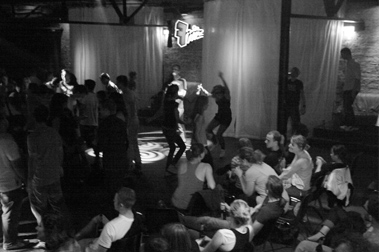 August 20th 2011, Fritzclub im Postbahnhof, Berlin, Germany
Photo: Sarah Schönfeld
Courtesy: les gens d'Uterpan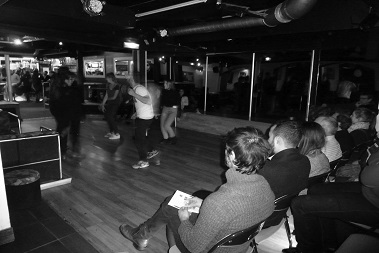 January 30th 2015, Club W, Le Havre, France
Photo: Mathilde Mahier
Courtesy: Pharenheit dance festival





Activations:

[Club W, 365 Rue Félix Faure, 76620 Le Havre, France] January 30th 2015 at 1am
Specific parteners: Pharenheit dance festival/ Le Phare Centre chorégraphique National du Havre Haute-Normandie/ PiedNu.


[Fritzclub im Postbahnhof, Strasse der Pariser Kommune 8, 10243 Berlin, Germany] August 20th 2011 at 00:15
Specific Partner: RADIALSYSTEM V, new space for the arts in Berlin

[Café charbon, 10, rue Melle Bourgeois 58000 Nevers, France] May 13th 2011 at 11.45pm
Specific partners: Parc Saint Léger-Centre d'art contemporain/ Art Danse CDC Bourgogne/ Galerie Arko

[Notting Hill Arts Club, 21 Notting Hill Gate, W11 3JQ, London, United- Kingdom] April 3rd 2009 at 00:00
Specific partners: French Embassy in the United Kingdom/ Institut Français du Royaume-Uni/ Centre chorégraphique National de Nantes/ Centre chorégraphique National - Opéra National du Rhin