4 hours a day / 5 days a week / 280 hours of activation
For the 2007 Biennale d'art contemporain de Lyon, the seven protocols making up X-Event 2 – including three especially created for this event – have been presented in random order by the choreographers and five performers throughout the four months of the Biennale. This period, the equivalent of the time needed to create and rehearse a dance performance, thus became something visible, to be experienced over time.
The presence or absence of the dancers and choreographers in the exhibition space corresponded to the rhythm and process of a work involving extreme expense of energy and chance occurrences. The performance and resting time required by this experiment was overlaid on, without being determined by, the timetable of the venue.
The process of the work incorporated the impatience, frustration, fascination, rejection, and sense of identification of an audience called on to produce a commentary on the event within the event. Through the slowing down, acceleration, motionlessness, or absence of the dancers' bodies, the seven performances developed in the context of the Biennale stress the movement and perceptual path of the viewer within an exhibition. The X-Event 2 protocols were triggered and develop in an area of some 100 square meters, open on all sides and situated within an itinerary laid down for the visitor by the Biennale curators. This area was neither the beginning nor the conclusion of an exhibition path. The typology of the space was that of a lobby, transit hall, or crossroads, in a return to the X layout of X-Event 1.
Extract of the catalog of the Lyon Biennial of Contemporary Art 2007
Pierre Bal-Blanc, artistic director CAC Brétigny
Specific partners: micadanses, ONDA
Performers: Sophie Demeyer, Cécile Laloy, Deborah Lary, Guillaume Milhac, Stève Paulet
Replacement performers: Marion Carriau, Denis Robert
Fashion design: Marco Fiedler and Achim Reichert (Vier5)
Sound concept and realization: Nicolas Martz, after the voice of baritone Victor Torres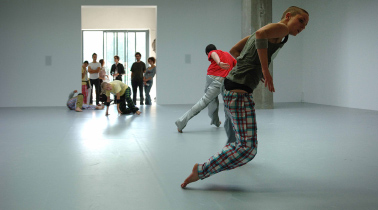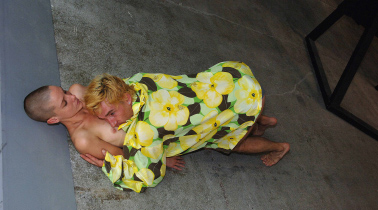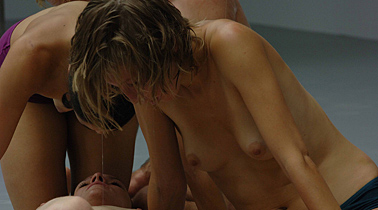 Photos: Blaise Adilon
Courtesy:

Lyon Biennial of Contemporary Art 2007